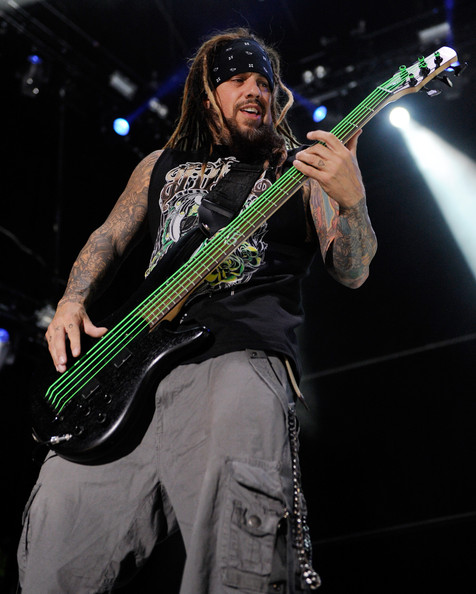 Reginald Quincy Arvizu
Born November 2, 1969 in Los Angeles, CA.
Bass
Fieldy's path to be a musician was set in motion from the day he was born. His father was a musician and toured with bands when Fieldy was still in diapers. There was a constant stream of musicians coming and going in the Arvizu household. With that environment, his father's guidance and not to mention the explosive rock of the '70's and '80's, Fieldy's desire to become a rock star was less of a wish and more of a sure thing.
The first milestone was when Fieldy and Head became friends in junior school. Fieldy's dad would often drive him over to Head's house to hang out and listen to their favorite music like Dio and Iron Maiden. Head had picked up playing the guitar a few years earlier and was already quite exceptional.. He could play just about any popular guitar riff by ear.  This led Fieldy to play guitar well, Head giving him his first lessons. Fieldy wasn't very good at it though, he couldn't seem to make it work as well as Head could, but persevered for a number of years despite it. It was around this time that Munky was hanging out with them on the regular too.
A big change happened when Fieldy entered high school. He returned home on the first day to see his mother moving out of the house.  His parents were getting a divorce. It was decided that Fieldy would stay with his father and his two sisters would live with their mother. Here the father/son relationship turned into more of a friendship as they would often party together. High school friends along with grown adults drinking and generally causing a ruckus. The start of Fieldy's constant drinking and partying lifestyle was in motion.
Now, where did Reggie get his nickname? "When I was younger I had these fucking chipmunk cheeks, " say Fieldy.  "So we called him 'Gopher'. And then it became 'Gar'", remarks Munky. In time that morphed into 'Garfield' until that was shortened to 'Fieldy', which stuck permanently.
Fieldy was never one for school and once he started playing in bands he thought even less of it. Head wanted to start a band and said he needed a bass player. Fieldy jumped at the chance. He knew Head was leagues ahead at the guitar so he figured his best chance at success was to accompany Head's lead and switch to playing bass. Just like in junior high, Head taught him the basic cords for bass, but this time Fieldy flourished on his own. He had found his instrument, he had found his calling. He had way more fun playing bass, it felt much more natural than guitar ever did. He followed in the footsteps of Flea  from The Red Hot Chili Peppers and Billy Gould from Faith No More. He saw how they 'attacked ' the bass and came up with his signature style, which consisted of traditional plucking, mixed with aggressive slaps and holding the guitar up-right like a toy. Fieldy was hooked. He worked hard labor intensive summer jobs to earn money to buy his own Ibanez bass. Now that Head had his bass player, they hooked up with two other guys in high school to form the band, Pierct. Fieldy was 16 and having the time of his life, the draw of being a rock star getting stronger and stronger.  Head was the leader, writing most of the lyrics and music.  But soon, Pierced fell apart when the singer couldn't commit long term. Unfazed, Fieldy and Head moved on to join Ragtime, a band their friend Richard had started. Ragtime ended quickly though, as the chemistry in the band wasn't working. Head decided to try something else while Fieldy and Richard stuck together.
With just a bass player and a singer, some recruiting needed to be done. Fieldy brought in Munky on guitar, but they still needed a drummer. Putting an ad into the local paper, they found David Silveria. He quickly impressed them  at his audition and the full line up of L.A.P.D. was set. They moved to Los Angeles for better exposure and opportunities, recorded an album and signed with a record label. L.A.P.D seemed to have a real shot at making it big, but the band went nowhere. Money for food and rent was a constant struggle to come by, they tried selling time shares and Fieldy sold marijuana for some time. Frustrated by no progress,  the boys split up from Richard and started over again.
At this time, Head had been hanging out with them, even working as Munky's guitar tech. Fieldy couldn't think of a good reason of why Head wasn't playing with them already, so he asked him to join. They found a singer named Corey. With Head writing with Munky, their sound had greatly changed so a name change was in order. Creep was chosen as the new moniker and they recorded a demo with producer Ross Robinson despite having one major problem to deal with. The singer was getting harder and harder to work with. Seeing that nothing good was going to come with his erratic behavior, Corey was let go and the hunt for a new singer began.
Fortunately, the wait wasn't too long and they found their permanent singer in Jonathan Davis. After seeing him perform in a club and getting his name, Head and Munky told Fieldy all about their discovery. Fieldy knew Jonathan Davis from his childhood! Somehow their paths were crossing again years later. Fieldy reached out and arranged for an audition.
Head and Fieldy went to the bus station to pick up Jonathan and when he walked off the bus, Fieldy didn't think it was going to work. Jonathan had been rocking a femme look for Sexart, it was the opposite of what they were going for in Creep. Sporting dyed long red hair, lots of makeup, silver hoop earrings, ripped jeans with zebra print spandex leggings underneath and what looked like a woman's blouse, Jonathan really stood out from the crowd.
Any doubt that Fieldy had was blown away when Jonathan sang to the music they had recorded. It was a perfect match. He was the last piece to the puzzle, the band was complete. The boys named themselves Korn and worked through 1993 to nail down their sound, play gigs and record their debut album. Korn went nationwide in 1994 with their self-titled, genre defining record.
The next 10 years saw great success for Korn. Five albums, millions sold, and completely sold out tours all over the world. But Fieldy wasn't doing well. He had been growing increasingly mean and his ego from the success and fame had gotten out of control. Drinking and drugs were a big problem as well. Fieldy's insecurities and emotional walls that he had been building up since the divorce of his parents had taken their toll. It was the death of his father in 2005 that trigged a spiritual change. Many years earlier, Fieldy's father had become a devote Christian. While his father knew his son wasn't well, he never pushed his views on Fieldy. His last wish was that his son would be saved.  "[I] went through a deep dark moment. I just really starting thinking about everything. From what I'm doing to myself to his [father's] death, to what am I leaving behind. I just couldn't take it anymore." His new found faith brought him to a sober life and making amends to those he hurt in the past.
Now a father of four, Fieldy continues making music with Korn. He's also released a few side projects.  Fieldy's Dreams– Rock N' Roll Gangster, a rap/rock album in 2002, "Got The Life", a memoir released in 2009 and Stillwell- Dirtbag, a "street metal" album in 2011. He also has a solo bass album, Bassically and a new Stillwell album that has yet to be released.