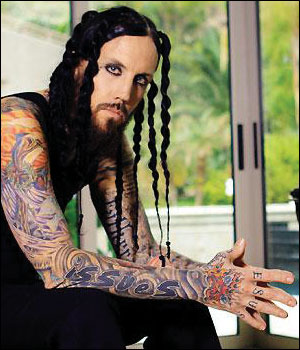 Brian Phillip Welch
Born June 19th 1970 in Torrance, CA.
Guitar
Head started playing the guitar when he just 10 years old. His first was a Peavey Mystic, which made anyone who held it look like they could rock. Head didn't need to look like he could rock though as he was a natural guitar player. By the time he was a teenager he could figure out how to play his favorite songs by ear. Even though he was really talented and got a lot of praise for it, Head was very insecure about himself, something that followed him all the way to adulthood. Despite being a loner as a kid, he made friends over the common bond of music.  Two of those friends were Munky and Fieldy. He was friends with them individually and later introduced them to each other to start the band, Pierced.
The friendship began in junior high school where the boys bonded over heavy metal music. Separately, Head helped them both learn how to play guitar. He got them started on their musical path, knowing all the tricks and techniques first. His natural ability sowed the seeds of Korn long before the band started.
Once in high school, Head was the first to play in a band with Fieldy. Seeing Fieldy struggle with playing guitar, Head suggested he try playing bass, which turned out to be the perfect fit. Years passed, they started and stopped playing in a few bands and graduated high school. It was when Fieldy, Munky and David moved to Los Angeles to pursue making their band L.A.P.D. successful that made Head follow them in search for something better.  Head worked on the sidelines of L.A.P.D., but was left feeling unfulfilled. Weighing his options, Head started to consider moving back to Bakersfield to work with his father. The boys had just split from the L.A.P.D. singer, Richard, and not wanting to see Head's talent wasted any further, Fieldy asked him to join in a new band. They called it Creep. Playing together, they made a new sound, something no one else was making. After recording a nine song demo, and ditching a problematic singer, they were on the hunt for a new singer. Someone who could match their sound, someone who understood what they were all about.
On a break from practicing, Munky and Head went back home to Bakersfield to visit family. They went out one night to a club to check out the local music scene. They weren't impressed by what they heard until the last act hit the stage. Sexart's singer astonished them both. They had never heard someone sing like him, he was totally unique and original. His name was Jonathan Davis.
Korn's momentum started in 1993 and never slowed down. They went from playing dive bars and clubs to 20,000 person headlining shows in less than 4 years. Head got everything he dreamed of as a kid, playing to sold out shows full of fans, fame and fortune. The party never stopped. Recording a record meant partying at the studio. Going on tour meant partying in a different city every night. The life of a rock star turned into a haze. Head was drinking and doing drugs so much he could barely keep it together. His life spun further out of control when he became addicted to crystal meth.
From 2003-2005, Head was a full blown meth addict. His whole life revolved around chasing a high.
"The party had overtaken me.  I was a functioning alcohol and drug addict. But when I got hooked on meth that was it. I couldn't function anymore. My wife ended up leaving me and my daughter needed at least one parent who was sane. And here I was, snorting drugs whenever I was around her. I had to do it to get out of bed, it's not like I was just snorting all day, but just to function. While I was on the road I'd do it all the time."
His addiction to meth took over.  He was pulling away and secluding himself from everyone he knew and it was getting him into dangerous territory as he was smuggling drugs across state and international lines.
"I didn't want to wake up. The speed was messing my mind up so bad I felt like I couldn't be a good dad. I thought I'd never be able to be a happy person. I felt like I wasn't good for her, even if I did get clean. I felt like the biggest loser. I'd mix Xanax and speed together just to get some sleep. Some nights I was like, you know what? I hope I don't wake up."
Unhappy with the music, the hard rock lifestyle and the never ending cycle of drugs, Head left Korn in February 2005 and announced he was dedicating his life to Christianity.  He felt he had to sever his ties completely with the environment that had fostered his failing life. Turning towards his Christian faith helped Head detox, get sober and reconnect with his daughter.
In the time out of Korn he wrote a book and solo album titled Save Me From Myself that were both released in 2008. Head then started a new music project with new band members  titled Love and Death. The full album, Between Here & Lost, was released in January of 2013.
Over time, communications opened back up with his ex-bandmates. He reconnected with Fieldy first who had also become a born again Christian in 2006. The Carolina Rebellion festival on May 5, 2012 marked the first time Head played with Korn in nearly eight years. He had gone to the show to see friends in the band P.O.D. and hang out when Fieldy approached him backstage.  Fieldy asked if he'd like to play on stage with the band for the encore of their headlining performance.  Always the smooth talker, Fieldy convinced him to play the show closer, "Blind." The reaction from family, friends and fans was overwhelmingly positive and he began talking to his old bandmates in earnest.
Shortly after the Carolina Rebellion show, Korn was gearing up to start work on their next album. Munky reached out and invited Head to join them in the studio to see if the time for him to return had come. After a few days of thought, Head entered the studio with Korn in July of 2012. Writing with his now clean and wiser old friends, he saw that the old, poisonous environment was gone. May 2, 2013 came the official announcement that Head had officially rejoined Korn and would be touring the summer along with his band Love and Death as an opening act. The October 8th, 2013 release of "The Paradigm Shift" marks Head's 7th album with Korn and the end of his near 10 year absence.