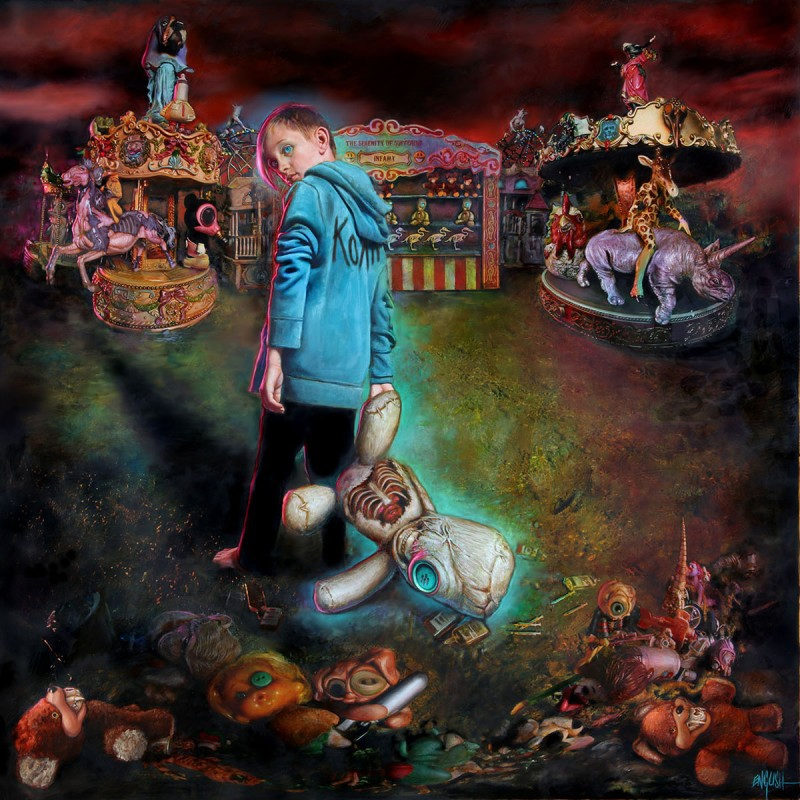 Not many bands make three albums let alone 12. Not many bands stay together, and stay popular, for more than a few years let alone 22. Korn has weathered the storms of the music industry and personal strife and somehow managed to stay largely intact. Emerging onto the scene in 1994 from the dustiest parts of California with a new sound that no one really knew what to make of, Korn has again managed to make a killer album by remaining true to their unique sound with revitalized energy and perspective.
Never one to shy away from experimentation in their entire career, 2011's The Path of Totality saw a total embrace of electronica. Dubstep bones wrapped in Korn meat and flesh. 2013's The Paradigm Shift saw the return of founding member Brian "Head" Welsh and with him the scaling back of the electronics for the trademark twin guitar attack of Head and James "Munky" Shaffer.
That brings us to today and what I hoped was going to happen with their follow up material: the band's total re-fusion as a unit with renewed faith in each other and the drive to reach the next rung of their trademark sound.
I'm a huge fan of The Paradigm Shift. There's a ton of great songs on there and the return of Head made a clear resurgence to their creative and distinct riffs. That album is very safe, though. The production sparkles, it's very clean and organized. It lacks that certain Korn "weight" most of the time. With the experience of them touring together starting in early 2013, writing TPS (Head playing.writing with Ray for the first time) and hitting the road some more, the band really gelled again. Fantastic live shows, the band of brothers are clearly happy and healthy.
The Serenity of Suffering is an absolute return to form. The band that went all out on the likes of 1999's Issues and 2002's Untouchables can be heard again. All of the elements that made people love Korn are sprinkled all over this 48 minutes of music.
Head and Munky wanted to push their guitar playing again. They did. SOS is a guitar showcase. That back and forth "talking" they do is just unparalleled. The grime and creep factor is back that frontloads the soundscape into some other world. They change tempo and rhythm much more often (really lacking on TPS). And the melodies! I can't express how impressed I am with my two favorite guitar players.
I don't skip a single track on this album. That hasn't happened since Issues. There are so many amazing songs I could write a thousand words on each one. 'Black Is the Soul' is an absolute Korn classic, simply brilliant from start to finish.The haunting start of 'The Hating' into the sweeping chorus. The bouncy beats of 'Take Me', the thunderous 'Everything Falls Apart', the brilliant metal shredding on 'Die Yet Another Night'. The solider's march percusion, batshit crazy two tone "bumble bee" guitars, dj scratches and howling screams on 'Next in Line'. The straight up funk of 'Please Come for Me'!  The creativity makes these tracks breath and run around.
I can't say any more about this album without mentioning producer Nick Raskulinecz. Long time Korn fan, Raskulinecz had an instrumental hand in forging SOS. He went on tour with them for their 20th anniversary of Korn dates and saw first hand night after night what the fans responded to most. Along with producers Ross Robinson (Korn, Life is Peachy, Korn III), Brendan O'Brien (Issues) and Michael Beinhorn (Untouchables), Raskulinecz knows how to make Korn crush.
SOS is so heavy, only the devil can lift it. The breakdowns are downright rollercoaster rides and there are a lot of them! The pits at shows will go berzerk like it's 1994 again. In particular, the "There is nothing in my head" section of 'Everything Falls Apart' is a neck snapper. Heaviest bit of track since 'Oildale' on Korn III: Remember Who You Are.
Along the lines of Issues and Untouchables there is so much depth, the production is amazing. You can hear everyone, every second that each band member contributes. Do not play this album on crap speakers. Toss those garbage earbuds and pump this through components that can handle the craziness. With quality headphones, SOS takes on even greater life.
The guitars are just filthy good. Thick tones, that range from the seering to the heavenly (Everything Falls Apart is a great example). Head and Munky wail on every track. The percussion from Ray and Fieldy are in the perfect slot together. Ray can do fills like there is no tomorrow. He is so versatile it's ridiculous. Fieldy shatters along the bottom end like no other, bouncing in the pockets of Ray, Head, and Munky. The tone Raskulinecz dialed him in on each track is phenomenal. He's got his trademark "click" here and there, but he's also much more robust sounding. He's such a unique bass player I'm so happy he's given so much space to shine (looking down at you, SYOTOS, Untitled, POT). He's especially awesome on Please Come for Me. Those sustained notes make my heart palpitate everytime. This album simply thumps.
Jonathan Davis is on point. Some of his best work. His entire insane range is shown off. Straight up singing with a mix of passion and pain. The whispers, phenomenal screams and howls. The vocal arrangements are so cool! It takes me back to my favorite album, Issues. The layering on 'The Hating' (the end is nuts), the awesome subliminal double talk in 'Everything Falls Apart' and the split personality presentation in 'Die Yet Another Night':
Sick of all these things I tried
Sick of all these lies
(Nobody cares you're just a bad man
Nobody wants you you're a dead man)
Wake me from my darkest dream
Read me from my mind
(Nobody cares you're just a bad man
Nobody wants you're a dead man)
From the beginning.  Korn has been a decisive band. The traditional metal scene turned their nose up at them while a legion of misfit kids flocked to see them to headbang their torment away. Today, most people are shocked Korn is still making music and simply boil down their sound to slap bass and JD scatting. The Serenity of Suffering isn't Korn doing anything that new so the haters will quickly dismiss it. That doesn't matter. What matters is that they're giving their fans everything they love in a modern way. This isn't the band from 1994. Those guys don't exist anymore, a lot has happened in two decades. This is the band in 2016 and they still deliver to those that listen. I consider this one of the best albums they've ever made. They've given us another album that no other band on Earth (and many have tried) can make. I, for one, couldn't be happier.