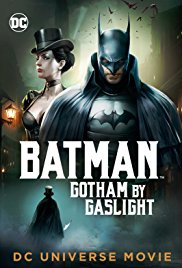 Gotham by Gaslight is one of the better DC animated films to come out recently. The story is an adaptation (not a direct recreation) of the one-shot comic book by Brian Augustyn (writer) and Mike Mignola (artist) published in 1989. An "Elseworlds" tale, Gaslight is an alternate universe take on Batman. This means while some elements are familiar (character names and roles are largely the same) it isn't a slave to the mythos so a lot is changed. Think of it as a "What if…" way of storytelling.
Set in Gotham City in the Victorian era, the vigilante Batman is after a terror of the city: Jack the Ripper. The Dark Knight vs The Night Terror, if you will. With a guy running around at night dressed as a bat, the people think he is the murderer when women turn up butchered on the streets. Of course, Bruce Wayne is on the case as soon as the first woman is discovered and he works the cast to catch the real killer. When Batman first encounters Jack when he goes after Selina Kyle, he quickly realizes that this guy isn't a random thug, he has serious training. A game of cat and mouse, Batman must quickly put the pieces together to stop this serial killer.
I like these types of stories because it offers great freedom to the writer to take an established character and do something interesting and unexpected. Staple characters are given altered roles and backgrounds and I find that to be pretty engaging as it makes for new character interactions that can play with what's expected. A taught 74 minutes long, Gaslight doesn't waste any time.
Gotham has always been presented as a gothic looking city, but altering the setting to resemble the Victorian era offers great visual changes. The backdrops are different, Batman's outfit is much simpler, as are his gadgets. Sure it's still top of the line stuff since Bruce Wayne is still from a wealthy family, but it's a paired down to fit the time. I think this is one of the more striking Batman animated films as it harkens back to the look of the Bruce Timm led 90s Animated Series. While that was aesthetically set in the 1950s, this is similar in that the era frames all the events and resulting action.
Great voice work tied to solid animation and a powerful score made this one of the more enjoyable DC animated films for me. I really liked the simplicity of it. Batman isn't kitted out in military-style gear. He's pretty new to the vigilante gig so his instincts aren't entirely honed. All of the action is up close and personal with an emphasis on more boxing for hand to hand combat than weapons or crazy martial arts. The fights show off some of the best animation and the rooftop chase with the out of control blimp is a real stand out.
The supporting characters are great, the stand out being Selina Kyle. She's not Catwoman in this, but she has the same personality, abilities, and most importantly, strong drive and motivation. She doesn't wait around for things to happen and she is no pushover.
I was surprised by how adult they took this. Of course, Jack attacking prostitutes sets the stage for what's going on, there was more cursing than I ever expected to hear (Jack has a certain view of women and isn't shy about sharing his thoughts when it comes down to it).
I dug this a lot, it scratched an itch that I've had for awhile.