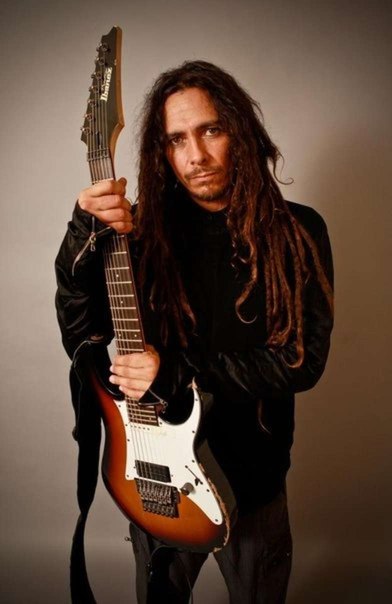 James Christian Shaffer
Born on June 6th, 1970 in Rosedale, CA
Guitar
James "Munky" Shaffer, like the other founding members of Korn grew up in Bakersfield, California. As with most people living in Bakersfield, he wanted out. Munky saw that road out of town to be paved by becoming a musician.
Munky's journey began with an accident. Around the age of ten, he injured one of the fingers on his right hand when he crashed on a three wheeler (dirt bikes and ATV's were a big past time for the area). "The doctor was like, 'you need to rehabilitate your finger somehow'. Like take up an instrument. How about guitar? I thought right away about the guitar in the closet. That'd be perfect."
Munky's first guitar was acoustic with nylon strings. He listened to his favorite musicians for inspiration. Ozzy Osbourne, Black Sabbath and Van Halen made early and lasting impressions on Munky. It was the epic shredding of Randy Rhodes, Tony Iommi and Eddie Van Halen that he most loved. Hearing Van Halen's "Eruption" changed his view on how guitars could be played. He continually played, getting better and better as time passed.
Listening to all this ass kicking rock, Munky looked the part. He recalls feeling like a misfit in high school with long hair. He attracted the same kind of like minded kids, namely Fieldy and Head. They shared a common bond of music and forged ahead through the teen years together, popping in and out of bands with each other over the years.
The high school years were an important mixing period. Head and Fieldy became friends in junior high and a few years later Head introduced him to Fieldy. "Brian said, 'I know this guy from high school', so they called me up and were like, 'you want to come down and you know try out for our band?'. It wasn't even if I could play or not, it was because I had long hair. So I sat down and Brian showed me the songs and that's how we all started playing together." They've been friends and playing with each other ever since.
Munky and Fieldy were determined to make music their careers. "It's all we knew how to do," says Munky. Right after high school, Munky moved to Burbank, California with Fieldy and David to make it big. After a few failed bands at the start, it was the formation of Creep that was the genesis for Korn. The beginning of living the lifelong dream of being a rock star had arrived.
Creep was made up of Fieldy on bass, David on drums and Head and Munky on guitar. The original singer Corey, didn't work out, but it was this time that they started to forge the signature sound of Korn. This is when Munky and Head discovered the duel guitar sound that no one else can duplicate. They loved playing really heavy chords and discovered that using seven string guitars allowed them to play down to drop A tuning. This down tune combined with the seven string guitar and capable amps made every note sound super heavy while managing to keep it from sounding too muddy. By blending all the music they loved, they came up with something new. Both Munky and Head took to using a large swath of Whammy/Wah/Delay/Reverb/Echo/Distort effects pedals with the help of producer Ross Robinson to sculpt the now legendary Korn soundscape.
By now, James had gotten his Munky nickname. Turns out, there's a simple explanation for it. "He's a monkey," says Davis. More to the point, Munky says, "My feet. I can spread them [his toes] out. Everyone says they look like hands, like monkey hands."
The final piece of the Korn puzzle was finding Jonathan Davis. Head and Munky discovered him singing for a band named Sexart in a club back home in Bakersfield. Once he joined the band, they continued to hone their sound under the name Korn. It was 1993 and the music world was about to change.
Korn brought a ferocious live show along with its debut album. They became known for crazy energy that matched their sound. Word of mouth spread fast as they toured with acts like Biohazard, Danzig, Marilyn Manson and Megadeath. It got them noticed and remembered by legions of growing fans. Munky talks about his early touring years, "I wanted to wear something on stage that was kinda trashy, dirty…because when I'm up there I feel sick.  Really what it is, is like the person I don't like in me, all the things that I hate about myself, that's who I am up there."
With every new album, Korn kept pushing themselves to be creative and original. Breakthrough success came with their third album, Follow the Leader in 1998. Munky remembers the time:
"There was a certain method we were stuck with on the first two Korn records. There was no compromise. It was the way it was supposed to be. That was successful, but it was time to grow as musicians. It was about being open to try new things. I think that set the tone for the rest of the albums to come because we were always open to new writing methods, producers, and different stuff. I remember everybody being really willing to try working with electronics, a new studio, and even a different producer. There were no boundaries. We were writing to have fun, and we were having lots of fun at night."
Nearly 20 years in, Munky and Korn are still going strong. He started a record label in 2006 (Emotional Syphon Recordings) and released an album from his side project, Fear and the Nervous System. The self-titled album was released digitally in October 2011 and physically in September 2012. Munky is the father of two and the 2013 release of Paradigm Shift marks Korn's 11th studio album.