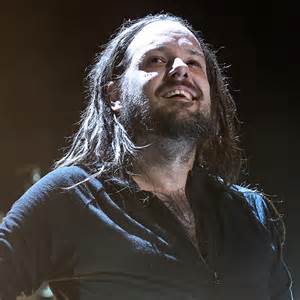 Jonathan Howsmon Davis
Born January 18, 1971 in  Bakersfield, CA
Singer
The blood of musicians flow through Davis' veins. Jonathan picked up his talents from his father, Rick, who was a keyboardist for Buck Owens and Frank Zappa. Music was a life line in Jonathan's youth as he had a hard childhood.  First, he suffered from severe asthma and his parents got divorced when he was three. His step mother gave no inclination that she wanted him around and he was sexually abused at a young age by a female family friend. School was often torture for him as well. He was the outcast in class, skinny and small, he was an often and easy target by bullies all the way through to the end of high school. Jonathan sought refuge and understanding through music. He listened to The Cure, Duran Duran, Led Zepplin, Black Sabbath and Ozzy Osborne and musicals like Jesus Christ Super Star. Being so inspired by The Cure, he often wore eyeliner and wild clothes to school which didn't help the bullying, but today he looks back to his choices fondly, saying it made him who he is today.
This painful time of life shaped Jonathan's musical tastes and the lyrics he would later write. He loved the darker and more 'weird' genres like, goth, industrial and the growing electronic dance  music. He got into DJing parties in high school and  the creation of electronica was a big attraction, something he has returned to and experimented with recently.
He left the DJing behind and attended mortuary  school after graduating high school. This path brought him to be a coroner in Bakersfield. Part of his job was to go and pick up dead bodies, which gave Jonathan macabre stories that he loved to tell others. During this time, he moonlighted as a singer for the band Sexart. Never being formally trained in singing, he had his own distinct singing style that he created on his own.
It was around 1992 when Jonathan was singing in a small club in Bakersfield when Munky and Head stopped in to check out the local scene. "We were getting ready to leave and just as we are walking out the door, Jon was the singer of that band [Sexart]. We heard him sing and me and Brian both turned to each other, our jaws just [opens his mouth wide in shock], oh my god! So we turned around and went back in to watch the whole set," remembers Munky. Returning to LA where they were living and working with David and Fieldy, they told them about what they had seen.
Fieldy asked them if they got his name, "We were told his name is Jonathan Davis." The name struck a chord. Fieldy knew Jonathan from childhood. While they were never friends, they often hung out because Fieldy's mother had babysat him and their fathers had played together in a band. Fieldy even 'accidently' ran over JD with a three wheeler when they were kids. Fieldy reached out to him the next day with Head and Munky's full endorsement.  Fieldy offered to pay Jonathan's way to come visit Hollywood so he could hear what they were working on.  It turns out Jonathan needed one more nudge to make the trip. "I didn't want to do it. I went to a psychic and she told me I'd be stupid if I didn't do it. So I went down and tried out," remembers Jonathan.
When they got Jonathan to the studio, they played him the music that had been recorded so far. There was silence. At first, Fieldy didn't think Jonathan was into it. While he didn't say it out loud at the time, Jonathan loved what he heard. He then asked if he could try singing to one of the songs. They didn't have any set lyrics, so he made them up as he went.
"We didn't have a PA or nothing for him, he sang through a stereo with like a cheap mic and you could barely hear him. He started singing and we all just looked at each other and just watched him do that freak out thing. It just clicked. We knew before the song was over," says Munky.
"This is my band. You're my guys," Fieldy remembers Jon saying.
Even with such a positive introduction, Jonathan was still reluctant to leave Sexart, his well paying job and Bakersfield behind for LA and Creep. After a little more convincing, Jonathan made the commitment and moved to LA. He first crashed with Fieldy before they all found a place in Huntington Beach where he slept underneath the stairs like Harry Potter. Jon make the band complete, Korn was born. Two weeks after JD joined they were making a new demo with producer Ross Robinson.
Jonathan pulled directly from his life for his brutally honest and raw lyrics. Singing in only the way Jonathan Davis can do, he retold parts of his life about being bullied, abused and misunderstood in a torrent of cathartic verses. "There's not one night up there when he's not really feeling his lyrics and really singing from his heart. Every night. It's like he's singing from the soul. It's hard to find that," says Munky. With Korn's sound fusion of distorted dueling guitars and crushing percussion and bass, they took on the world together. Non-stop touring and writing grew their fan base exponentially in short order, breaking out into the mainstream with the release of their third album Follow The Leader in 1998.
"That record was just the pinnacle of fucking indulgence, bro [Laughs]. It was nuts. It was fucking sex, drugs, and rock and roll. That's what it was. I was fucking out of my mind, but it was good. Right after that record is when I got sober [Laughs]. Doing that record, we went so over the top I had to quit."
Fame and fortune came with a dark passenger for Jonathan Davis to carry. Suffering from anxiety and depression for years, Jonathan turned to self-medication and became chemically dependent on drugs and alcohol. The non-stop rock star party life came to its peak during Follow the Leader when Jonathan's grandfather passed away. Reflecting on his deteriorating mental and physical well-being, Jonathan was able to leave the poison behind and go sober in 1998.
A health scare in 2006 grounded Jonathan from touring Europe in support of the bands 6th album, See You On The Other Side. Set to play the Download Festival, Jonathan woke up in his hotel room one morning to find what resembled bruises all over his body. He immediately went to a doctor and found that he had developed a rare blood disorder, idiopathic thrombocytopenic purpura (ITP). A very serious condition, doctors kept him bedridden for days. Full recovery took many weeks.
In 2013, there is no end in sight for Jonathan Davis' expanding career. The Paradigm Shift in 2013 marks Korn's 11th studio album. Jonathan has done some acting work, did the soundtrack for the 2002 movie Queen of the Damned and started two side music projects.  Jonathan Davis and the SFA went on the road for a short tour in 2007 playing rarely played Korn songs and the tracks he made for the Queen of the Damned movie. A full album is reportedly done as well, but has not been released. His EDM group, Killbot, released Sound Surgery in 2012 and he DJ's under the moniker, JDevil. Finally, Jonathan is a happy family man with his wife and three sons.