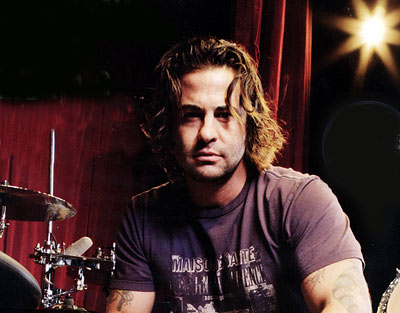 David Randall Silveria
Born September 21, 1972 in San Leandro, CA
Drummer (1993-2006)
The youngest of the band, David was just a kid when he first met Munky and Fieldy. Two small bands that Fieldy and Head were in had collapsed and Fieldy was working on making a new one. Fieldy asked Munky to take on guitars while Head went of to try something new. They teamed up with a friend named Richard to sing and needed a drummer to complete the group.
They put an ad in the paper that said, "Funk,  thrash, metal  groove band looking for a drummer." Not knowing who or what these guys were about, David called and left a message on Fieldy's answering machine.  "Hey, you guys looking for a drummer? This little kid on my answering machine said," remembers Fieldy. After laughing at how young he sounded, they called him back and arranged to go over to his house to play in his garage. Jamming together in the garage, they were impressed. "It just clicked. He was so good man," says Fieldy.
"I loaded up my drums that day in the car and took it to the studio," David recalls.  "He was so young his mom had to drop him off for practice," says Munky.
They named themselves L.A.P.D., "Love And Peace Dude" (which was later changed to "Laugh As People Die" after being openly mocked by others). They drew inspiration from Red Hot Chili Peppers and Faith No More for their sound and were able to get some traction locally. Looking to make it big, it was quickly decided they had to get out of Bakersfield to Los Angeles to get to the next level. The singer, Richard and Fieldy left first with David who dropped out of high school to do so. They crashed at Richard's mother's small apartment in Burbank upon arriving. David was so young at this point that his mother asked  Richard's mother Donna, to take legal custody of David until he turned 18. She gladly accepted, making it possible for David to get one step closer to becoming a rock star. This was a very big move as it put two of the soon-to-be-named Korn members in the best area geographically to get noticed in the music industry.  Shortly after, Munky moved in and  they were later able to get Head to move to Burbank as well.
L.A.P.D. got as far as recording an album, but after spinning their wheels for a while, the band went nowhere and everyone but Richard was fed up. They parted ways with Richard and started fresh. Fieldy, Munky and David started jamming together regularly  to make new music and asked Head to join in as a second guitar player. These sessions started the foundation sounds of Korn. Fieldy and David worked closely bringing their fresh playing styles together to make the percussion trademark that is the backbone of Korn. Looking for a singer they found a friend named Corey and named the band Creep. They wrote and recorded a nine song demo with producer Ross Robinson, but things went south with Corey. After letting him go, Munky and Head managed to discover Jonathan Davis during some downtime from Creep back in Bakersfield. Once Davis joined as lead singer, a name change and a little more than a year later, Korn was becoming one of the biggest names in metal.
Three studio albums had seen Korn to the top of the record charts and filling arenas worldwide. A wrist injury took David out of commision mid tour while supporting their 4th album, Issues in 2000. "My right wrist started feeling really tired when I was playing.  I just couldn't play, the strength went away." What was the medical term for his injury? " I hit too fucking hard." Instead of canceling dates for the Sick and Twisted  and Summer Sanitarium summer tours they were booked on, Korn found an artist to fill in for David. Mike Bordin from Faith No More. "Growing up, he was one of the drummers that influenced me and he's a great drummer…he would be a guy who would understand how I play."
Six albums and 13 years into Korn's career, David suddenly left the band at the end of 2006. After finishing the tour cycle for the See You On The Other Side album, MTV asked the band to do an Unplugged album.  Feeling burned out and unhappy with the direction the band was going, David had no interest in the project and didn't participate. Originally called a "hiatus" in the brief press release given at the time, it looks like it is a permanent separation.
Since then David has continued to manage his restaurant, Silveria's RockBar, in Huntington Beach, CA. He also announced joining the band INFINIKA in January of 2012.