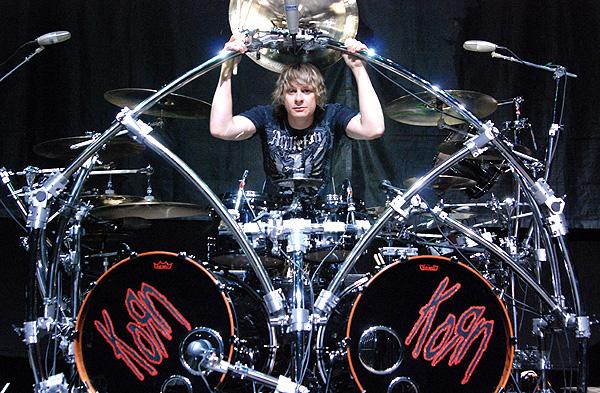 Raymond Lee Luzier
Born June 14, 1970 in West Newton , Pennsylvania.
Drummer (2007-Present)
Located about an hour from Pittsburgh, Ray grew up on a 118 acre farm. Ray's passion for music is an innate one, first feeling the urge to play the drums when he was very young. While no family members were musicians, he was first exposed to the works of Elvis, Chuck Berry and The Beatles. With the records playing, Ray would sing and tap along to the beat of the music; banging on pots and pans was an early favorite activity for him. His parents soon caught on to this and his father welded some old coffee cans together and painted them orange. Soon, he graduated to a beginner kit that lasted all of two weeks before Ray destroyed them from playing them so much. His drumming roots really started to grow on his six birthday when he got a full kit.
From his first drum set to entering high school, Ray was a self-taught drummer. Over the years he'd see bands on the cover of magazines and pick up their albums. He'd put on the likes of Rush, AC/DC, Leonyrd Skynyrd , Kiss, and Ozzy Osbourne, figuring out how to play the songs by ear. Consuming and memorizing the works of the great bands of the 70's and 80's Ray became a fan of countless rock bands that inspired him to continue his passion for making music. High school marked Ray's start in formal percussion education. He got involved with every band available to him: marching, concert and symphonic. This was where Ray first got a taste for playing live on stage in front of an audience. It was a tremendous feeling that pushed him to get into a band outside of school.
Ray was just 14 when he got into his first rock band. They'd play gigs in clubs that he was legally too young to enter. So to get in, Ray's father would escort him in, stand right by the door during the show and escort him out the moment it was over.
It was the late 80's when Ray graduated high school , the same time he decided that making music, that playing drums, was going to be his career. Saying goodbye to his close family, Ray packed his bags and moved to Los Angeles, California. First stop was attending The Musicians Institute in Hollywood, where he honed his technical chops and learned how to play many more styles and how to work in the professional scene. From learning so much and having such a positive experience at MI, Ray went back as an instructor from 1992-2001.
Now done with school, Ray never stopped drumming. He became a well-known  studio and session player in LA who could pick up and play any type of music. He was a quick learner and easy to work with; his skill and attitude getting him constant gigs. To date, Ray can be heard on dozens of albums. Through-out the 90's you could find Ray playing at everything from the size of a wedding wearing a disco wig to an arena packed with people. If he wasn't working on music, he was teaching it.
In 1997, Ray got his biggest gig playing drums for David Lee Roth of Van Halen fame. He toured with Diamond Dave consistently though to 2005. While Ray didn't necessarily become famous from his time playing with Roth, he did get an education in the School of Showbiz Rock during this time. Roth taught him the importance of putting on a show for an audience. When someone takes the time and money to come and see you, you make them remember the time with you.
Ray avoids the "waiting for a bus" look when playing. He never liked seeing a boring drummer and he didn't want to be known as one. A key part of that is showing the emotion on your face. "I try to show them that this is what I'm all about. I'm trying to give you everything I got. Like my blood and sweat."
During the David Lee Roth years, Ray also played with numerous bands in the down time. Wicked Alliance, Arcade, and Freak Power Ticket, just to name a few.  Ray's time with David Lee Roth ended around the same time that the DeLeo brothers (Stone Temple Pilots) were starting a new band with singer Richard Patrick (Filter). In 2006, Ray joined their band, Army of Anyone.
Army of Anyone released its self-titled debut in 2007. Ray is very proud of this album, but shortly after it was released, the band dissolved as the DeLeo brothers decided to resurrect Stone Temple Pilots. A real blow for Ray at the time, fate seemingly had other plans for him.
Korn saw its founding member and drummer David Silveria leave the band in late 2006. Despite losing its second band member in as many years, they continued on. After enlisting the help of drummers Brooks Wackerman and Terry Bozzio to record 2007's Untitled, Korn was ready to support it with a world tour. Slipknot's Joey Jordison stepped behind the kit for the American leg of The Family Values 2007 tour. At the end, Joey left to go back to record the next Slipknot album, All Hope Is Gone. With this opening, they needed someone who could take over. As luck would have it, the management company behind Army of Anyone is the same as Korn's. This made for a quick discovery and introduction between Ray and Korn. The timing was simply perfect. Ray flew out to one of the last stops of the Family Values tour in Seattle and auditioned with Munky and Fieldy. Asked to learn six songs for the audition, Ray went the extra mile and learned 30. It was an easy decision for Korn and they asked Ray to tour the world with them. He got the job in October 2007 and worked so well within the band, he was made an official member in 2009.
Since joining Korn, Ray remains busy inside and out of the band. His first recording with Korn was 'Kidnap the Sandy Claws', a cover for The Nightmare Before Christmas soundtrack remix album, Nightmare Revisited. Ray also worked on Jonathan Davis's solo project, JD and the SFAs album which has yet to be released. These works have been followed by three Korn albums.  Korn III: Remember Who You Are (2010), The Path of Totality (2011) and The Paradigm Shift (2013). Ray is also a new father and continues to teach and put on drum clinics when not on the road.