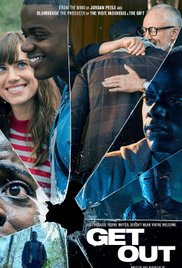 Writer/Director Jordan Peele did his horror movie research. Impressive first movie from anyone, let alone a person known so well only for comedy.
Chris has been dating Rose for a few months and they go visit her parents for the weekend at their secluded home in the woods (upstate New York I think). Chris is black and Rose is white and he asks Rose as their packing for the trip if she told them he was black. She says no, there's no reason to. He has his doubts but the happy couple hop into the car and start their trip. What follows is a polite and friendly environment decaying into madness right before your eyes.
Like some of the strongest and well-regarded horror films, Get Out is a smart take on modern social issues cranked up. From the time the two are on the road, the uncomfortable reactions start. Each step that the movie shows is a measured one. Events, starting with a cop asking for Chris' ID for no reason, are always off and get increasingly more strange. The escalation is really
The escalation is really brillant. Racial profiling is something we read about almost every day and is sadly rather normalized. Chris is a young man and takes the quickest de-escalation route right away. He gets his ID while Rose protests. It's clear that this has happened to him before. It's gross but Chris wants them to put it behind them.
Once at the house, more casual racism seeps out. Sometimes it's overt, sometimes subtle but Chris, along with the audience always catch it. We're first led in with "that's weird…" Then the horror movie escalation starts. "That's really weird… " goes to "Alright, what was that about?" to "Okay, something is seriously going on here" to "Get Out!"
I'm impressed by every aspect of Get Out. It's smartly written, cast correctly, and paced really well. No reliance on gore or violence which I think is another achievement. It doesn't waste any time setting the stage and then pushing expectations. It's generally creepy, has pops of humor at just the right points that are super effective, and very well shot. My only thought is that I think they could have gotten away with even less of a soundtrack. What happens on screen to make the viewer suspicious and uneasy in the beginning totally works. When creepy music starts playing I felt like it was too leading and it meant they (the studio) didn't think the audience would be smart enough to keep up and "get it." Plus, there is a cheap orchestra hit that I never like (super lazy).
I think the less you know going in, the better it will be so I'll leave it at that. Great ride that I think will stand the test of time. Generations will watch this movie as a great example of what horror can do.