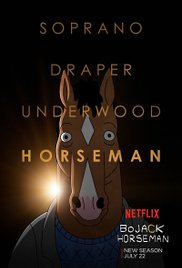 I wonder how many people pass this show up based on how it looks. You see a picture and the main character is a horse. The world is animated anthropomorphized animals (and insects) living and working in Los Angeles. If it didn't grab your curiosity right away to make you check it out, there's no way to see that it's an amazingly inventive and mature show. Sure the comedy can be absurd and immature, but that's how the medicine is coated to entice you to swallow it.
This season picks up right after 2. "Secretariat" is finished (with Bojack being replaced by a CG version of himself) and the promo push through awards season towards an Oscar consideration is underway. The horse who led a corny family sitcom 20 years ago is on an upswing many actors can only dream of. But this is Bojack Horseman. A guy who can't figure out how, or with what, to fill the void in his heart. Happiness is always just out of reach no matter the success that befalls him.
Relationships are the big focus. The secondary characters are much more independent of Bojack this season. There's a lot to cover so I'll stick to some highlights. The secondary cast is integral to Bojack and kudos to the writers for separating them and keeping them such good and interesting characters.
Todd really got the chance to move around without Bojack. A great business venture with Mr. Peanutbutter and a much closer look at him and making relationships (the fear of it). The season ends with him professionally on the bottom floor, but with a personal breakthrough with Emily (Abbi Jacobson!)
The dynamic with Diane and Bojack remains interesting. They don't spend too much time on screen together, but when they do it counts. She's working hard to keep her marriage with Mr. Peanutbutter and despite being largely absent from Bojack's life, she's still his friend. She's one of the few that reaches out to him when he's pushed everyone else away and he's alone.
I loved seeing Bojack and Princess Carolyn's past. Made their breakup that much more meaningful.
I think the creativity of the show has reached an all time high. While the staples are still there (the unending background gags, my favorite being the fly waiter), there are some daring episodes that really mix things up. Episode 4 is a real standout where we go with Bojack to an underwater film festival. Some of the series best animation can be found there and the lack of dialog while still maintaining high levels of storytelling is impressive. The great use of flashbacks to 2007. The long story arc with the spaghetti strainers. The story with Diane and Sextina Aquafina. The crazy last run with Bojack and Sarah Lynn that weave blackouts into meta-commentary (the takes on Los Angeles and society in general, are fantastic).
Bojack remains one of my favorite shows, both in terms of Netflix Originals and in animation. The writing and voice cast (I wasn't expecting more of the amazing character actor Margot Martindale) continue to crush it. This show covers some deep and dark territory but is funny enough to keep it from being miserable and it doesn't get preachy or judgemental. I love the end, can't wait for season 4.