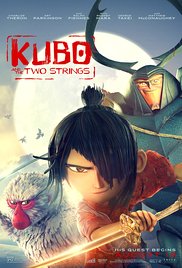 The men and women at Laika have been pushing the boundaries of stop motion animation for a decade. Kubo and the Two Strings is their latest triumph.
A boy living in a cave on the outskirts of town with his mother learns about his family after he breaks one of his mother's cardinal rules: never stay out past sunset. He is thrust into a quest where he must find a magic sword, helm, and armor in order to fend off an ancient spirit that's been after him since he was born.
I'm a mark for stop motion animation, so there is a guaranteed level of enjoyment I get from a production like this. I could ramble on for many paragraphs about the animation in Kubo but I'll cut to the chase and call it mindblowingly good. I don't know how they did most of this movie. The physical nature of actually moving objects one frame at a time gives stop motion animation life that other forms of animation don't have. You can almost see the hands of the animator's in every instance and there is some unbelievable work in this 100 minute film. The intricate detail of the characters, massive sets and puppets, and some awe inspiring set pieces. Just the character of Monkey alone. Looking at the script she must have made a lot of people worry about how they were going to make her work. The fur, her intricate movement just to walk and she's heavily involved in every action scene. The stuff they accomplished has to be seen to be believed. The boat fight with Monkey and one of The Sisters is just nuts. That whole section is amazing from Kubo making the boat to the action under the water with Kubo and Beetle while Monkey goes to war above.
Kubo is much more than just pretty animation. Its well-casted actors (I especially liked Charlize Theron as Monkey) bring heart to their characters. While the story is rather simple, the script moves elegantly from beat to beat. There's a great and touching story about family, life and largely, death for you to take in.
Loved every frame of this movie. See it.