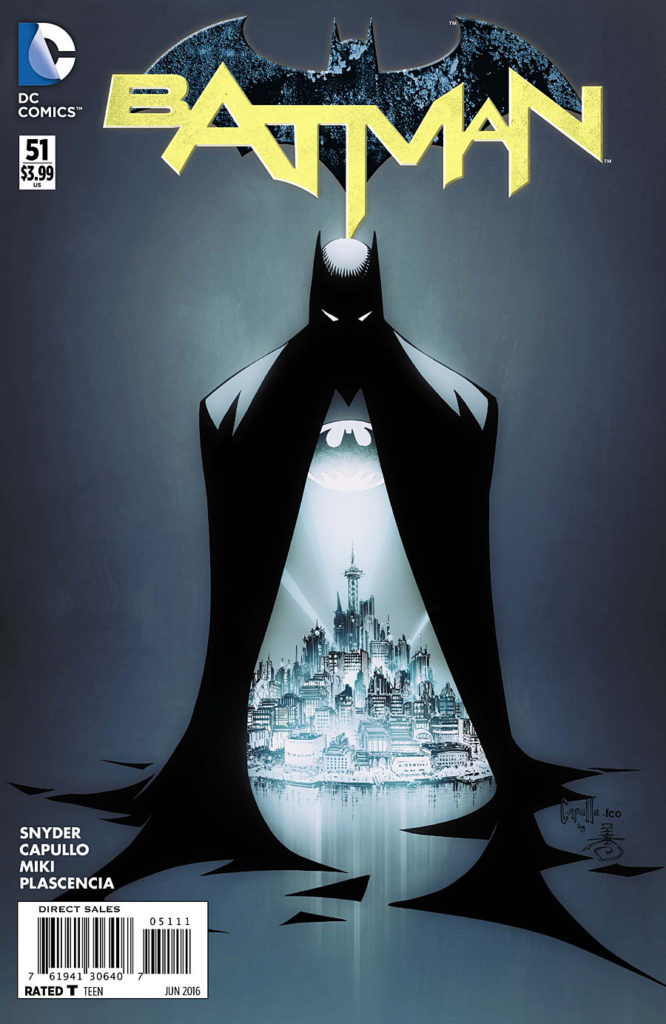 Writer Scott Snyder and artist Greg Capullo have been in charge of DC's headline book since The New 52 started. Batman has led the charge with some wild and daring story lines and sports one of the few teams from the 2011 relaunch that made it this far. I've become a big fan of Scott's writing and Greg's art blows me away every issue. I love the way he draws everyone and his layouts are super dynamic. The way he artistically spins Scott's visions are often breathtaking, his work really stands out from the pack.
These two have a fantastic symbiosis making Batman and it's a bummer to see it end. Issue #51 marks the last issue and it's a knockout. #50 brought the "Superheavy" story arc to an epic close and this issue bookends their entire run. It's a quiet story with Batman out on patrol shortly after the events of 50 and he's raring to go. Cruising in the Batmobile, a tremor is felt and Gotham's lights go out. Sure that the criminal element is up to no good, Batman gets to work investigating. But for once, the streets of Gotham are calm. The people of Gotham are…okay. Scott has made a point to make Gotham a character itself and we see that in this issue as Bruce investigates his city, silently (well, mostly) checking in with those who often hurt it. A beautiful book in every regard, especially as it ends with a feeling of hope and inspiration. I want the last page as a full sized poster, it's that poignant. For a series so often steeped in darkness (looking at you, Joker and Mr. Bloom), the light from this optimism has never looked so bright. The cover you see above perfectly matches what's inside.
The art in this book is stunning. As simple as the story is, with no major action set pieces, there is a remarkable sense of weight and motion captured in every frame. The play between shadow and light is something to behold thanks to experts Danny Miki (inks) and FCO Plascencia (colors). These two are gods among men, I love their work so much and they are a big reason why this series has been so striking. The scene with Gordon and Batman on the roof should be put up as an installation in a museum.
#51 bookends Scott Snyder and Greg Capullo's run perfectly. It reflects their 5-year tenure and I couldn't ask for more.
The other good news is that Snyder and Capullo will work together in the future. I'm all for them working on something original when the time is right. Until then, Snyder will be writing All-Star Batman and Capullo will be drawing a mini-series with writer Mark Millar and then come back to work on a new book for DC (no word on what it is, just that DC offered him something and he said yes). That leaves Batman with an all new creative team. Tom King is writing (The Omega Men, Greyson, and the Robin War event) with David Finch (his Wonder Woman is amazing) and Mikel Janin (Justice League Dark and Greyson, pretty sure he's just doing covers which are pretty killer) on art duty. We'll see the new direction in June. Until then…