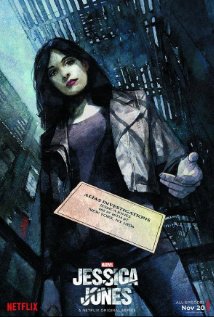 Thankfully the show is much better than the promotional image you see above! I knew nothing about Jessica Jones coming into it. She's a character that sits in the shadows of many Marvel super heroes and I think that works for her benefit. A lot of people know about her and The Defenders now. Following behind the charge of DareDevil, Krysten Ritter headlines the cast of
Following behind the charge of Dare Devil, Krysten Ritter headlines the cast. Jessica prefers to stay out of the limelight. She uses her powers (super strength) for good in her job as a private detective for hire. She's a survivor. First of a car crash that killed her family when she was a child and then from the terror known as Kilgrave.
Kilgrave makes this show as good as it is. More precisely, David Tennant as Kilgrave is the reason to watch. He's a sociopath with mind control and that puts him head and shoulders above many villains in the Marvel stable. While The Avengers run around punching through another alien invasion, Jessica has to deal with a man who has no empathy and does whatever he wants to anyone with no fear of consequence. The only one he does fear is Jessica, so she has to stand up and stop him.
Ritter and Tennant's scenes together are easily the best, but the supporting cast is very good. Mike Colter as Luke Cage is the main highlight and he's got us all pumped up for his solo show coming up in 2016.
Jessica Jones is a rather atypical super hero show which is refreshing. Special effects are subtle and used only when necessary. Action scenes are intimate and well done, even if they are infrequent. Smart and interesting storytelling to fill out backstories. As a big Batman fan, I appreciate the detective angle (she's really good at her job).
My biggest complaint is with the pacing. I think the season is around one episode too long, maybe a little more. A good hour of the show could be cut to make things move faster. The first few episodes plod along a bit and the action scenes take awhile to show up (the best being in episode 11) and add the needed kick in the pants.
Jessica Jones is a really well-made show that respects the character and its viewers. It's a grown-up show that doesn't condescend or pander to the lowest denominator. I don't think it's as good as Dare Devil, but a worthy follow up that keeps the Marvel Netflix collaboration strong and promising.